Aprilia scooter is available in 3 different models within price range of Rs. 2.6 lakhs to Rs. 4.5 Lakhs in Nepal. Below is the list of Aprilia scooter price in Nepal for 2022. This price list covers almost all models of Aprilia bikes or scooters available in Nepal, which are as follows:
Aprilia Scooter Price in Nepal – 2022 List

Here is the price list of Aprilia scooters as on April 2022:
Aprilia Scooter price in Nepal

| Aprilia Scooters in Nepal | Price |
| --- | --- |
| Aprilia Storm 125 | Rs. 2.639 Lakhs |
| Aprilia SR 125 | Rs. 2.709 Lakhs |
| Aprilia SR 150 | Rs. 3.194 Lakhs |
| Aprilia SR 150 Race | Rs. 3.424 Lakhs |
| Aprilia SXR 160 BSVI | Rs. 4.449 Lakhs |
Please note that above price is subjected to change and is for reference purpose only. Kindly contact Aprilia Nepal to get the latest showroom price.
Note: Aprilia scooter price list was last updated on April 08, 2022.
You may also like to check historical prices of Aprilia scooters in Nepal.
Aprilia Nepal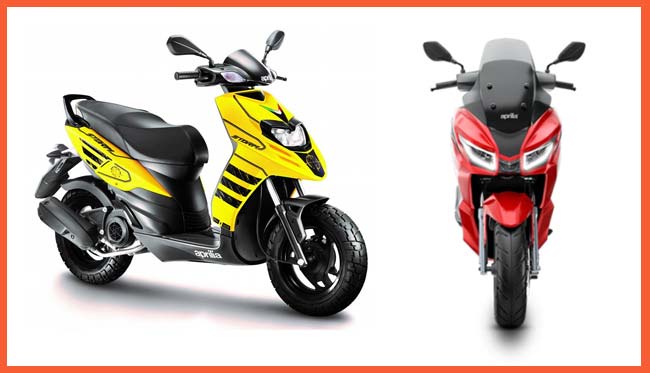 Dugar Brothers & Sons Private Limited is the sole authorized distributor of Aprilia bikes and scooters in Nepal. Initially, it was launched by D-lifestyles, however, later the Dugar Group took the right. Aprilia is an Italian motorcycle company, which started manufacturing bicycles immediately after World-War II. Later it started producing scooters and small-sized motorcycles as well. It also produces racing sportsbike and take part in Grand Prix World Championship. Dugar Group also sells "Vespa" brand of scooters alongside Aprilia, which is also an Italian luxury brand owned by Piaggio.
Though Aprilia has bikes as well, currently, it is only selling scooters in Nepal. 3 models of Aprilia scooters are available in Nepal, which includes Storm, SR and SXR in 125, 150 or 160 engine displacement. Aprilia scooter starts at price of Rs. 2.639 lakhs in Nepal and goes up to 4.449 lakhs. For more details, contact Aprilia Nepal at the contact information given below:
Contact Information
To buy or test drive Aprilia scooters (or bikes) in Nepal; or to get the features and specification with detail price information; you can contact at:
Dugar Brothers & Sons Pvt. Ltd.
Corporate Office: Kantipath, Kathmandu, Nepal
Phone Number: +977-01-4163532, 01-4163533, 9801350114
Branches:
Naxal Showroom: 01-4523191, 9801353657
Teku: 01-4260615, 9801351507
Bhaktapur: 01-5708015, 9801353649
Balaju: 9801353638
Bouddha: 9801351489
Kupondole: 01-5010697, 9801353655
Satungal: 9801367268
Ekantakuna: 9801353661
Banepa: 9801364243
Birgunj: 9801558696
Note: Aprilia also has dealer network across various parts of country.
Or you can message us your queries regarding Aprilia Scooter price in Nepal or its specifications.