Jawa bike is available in 3 different models within price range of Rs. 6 lakhs to Rs. 9 Lakhs in Nepal. Below is the list of Jawa bike price in Nepal for 2022. This price list covers almost all models of Jawa bikes or scooters available in Nepal, which are as follows:
Jawa Bike Price in Nepal – 2022 Updated List

Regular models or variants of Jawa bikes in Nepal are listed below along with their price:
Jawa bike price in Nepal

| Jawa Bikes in Nepal | Price |
| --- | --- |
| Jawa 42 Single ABS (300cc) | Rs. 6.73 Lakhs |
| Jawa 42 Dual ABS (300cc) | Rs. 7.04 Lakhs |
| Jawa Classic Single ABS (300cc) | Rs. 7.05 Lakhs |
| Jawa Classic Dual ABS (300cc) | Rs. 7.36 Lakhs |
| Jawa Perak Dual ABS (334cc) | Rs. 8.20 Lakhs |
Please note that above price is subjected to change and is for reference purpose only. Kindly contact Jawa Nepal to get the latest showroom price.
Note: Jawa bike price list was last updated on April 08, 2022.
You may also like to check historical prices of Jawa bikes in Nepal.
Jawa Nepal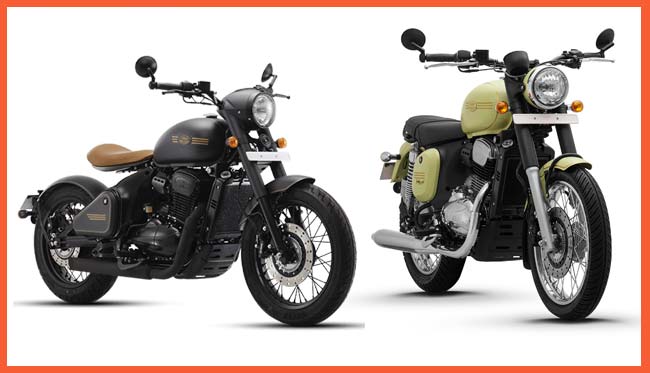 Agni Motoinc Private Limited is the authorized distributor of Jawa Motorcycles in Nepal. Agni Motoinc is a subsidiary of Agni Group – the group that sells Mahindra cars and vehicles in Nepal. This company has been selling two-wheelers of Mahindra since 2015. Apart from that, Agni Motoinc is also selling Powerol generators and e-Alfa Mini three-wheeler auto rickshaws.
Talking about Jawa as a global brand, it is Czech Republic origin & based company with its headquarters in Prague. It mainly produces cruiser bikes resembling to the type of bikes Harley Davidson or Royal Enfield produces. It was quite popular durig 1950s, exporting its model in over 120 countries. However, after 1990, there was significant production-cut. In 2018, Jawa got to see its revival in India through licensing deal with Mahindra Group under the subsidiary called Classic Legends.
Currently Jawa is selling three different model of bikes in Nepal, which includes Jawa 42, Jawa Classic and Jawa Perak in 300 or 334cc engines. Jawa Bike starts at price of Rs. 6.73 lakhs in Nepal and goes up to 8.20 lakhs. If you are a cruiser lover, Jawa bikes are definitely worth a try. For more details, contact Jawa Nepal at information given below.
Contact Information
To buy or test drive Jawa bikes in Nepal; or to get the features and specification with detail price information; you can contact at:
Agni Motoinc Pvt. Ltd.

Uttardhoka (Kathmandu) Showroom: 01-4410373, 01-4442408
Teku (Kathmandu) Showroom: 01-5361330
Email: [email protected]
Or you can message us your queries regarding Jawa bike price in Nepal or its specifications.