Vespa scooter is available in 6 different models within price range of Rs. 2.8 lakhs to Rs. 4.3 Lakhs in Nepal. Below is the list of Vespa scooter price in Nepal for 2022. This price list covers almost all models of Vespa bikes or scooters available in Nepal, which are as follows:
Vespa Scooter Price in Nepal – 2022 List

Here is the price list of Vespa scooters as on April 2022:
Vespa Scooter price in Nepal

| Vespa Scooters in Nepal | Price |
| --- | --- |
| Vespa Notte 125 | Rs. 2.83946 Lakhs |
| Vespa LX 125 | Rs. 2.83946 Lakhs |
| Vespa VXL 125 | Rs. 3.33946 Lakhs |
| Vespa VXL 150 | Rs. 3.85946 Lakhs |
| Vespa SXL 125 | Rs. 3.47946 Lakhs |
| Vespa SXL 150 | Rs. 4.01946 Lakhs |
| Vespa SXL Matte 125 | Rs. 3.49946 Lakhs |
| Vespa SXL Matte 150 | Rs. 4.03946 Lakhs |
| Vespa Elegante 150 | Rs. 4.23946 Lakhs |
Please note that above price is subjected to change and is for reference purpose only. Kindly contact Vespa Nepal to get the latest showroom price.
Note: Vespa scooter price list was last updated on April 08, 2022.
You may also like to check historical prices of Vespa scooters in Nepal.
Vespa Nepal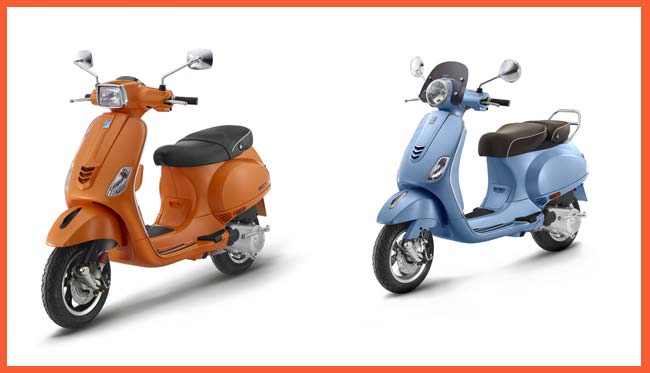 Vespa scooters are solely distributed by its authorized distributor for Nepal – Dugar Brothers & Sons Private Limited. This company is also responsible for selling Aprilia bikes or scooters in Nepal. Like Aprilia, Vespa scooters were also intially launched by D-lifestyles in Nepal. Vespa is a premium luxury scooter brand from Italy. It rose to quick popularity since its launch in Nepal due to its beyond-the-class look and feel. Initially, Piaggio, the company behind Vespa, globally started with single model of scooter which was further expanded to full line of scooters over the period. Also, Piaggio expanded its portfolio by acquiring six more companies including Aprilia.
Currently, Vespa is selling 6 models of scooters in Nepal. It includes Notte, LX, VXL, SXL, SXL Matte and Elegante. Vespa scooter starts at price of Rs. 2,83,946 in Nepal and goes up to Rs. 4,23,946. If you are looking for a premium quality with some design elegance, Vespa scooters are definitely a go. For more details, contact Vespa Nepal at the contact information given below:
Contact Information
To buy or test drive Vespa scooters in Nepal; or to get the features and specification with detail price information; you can contact at:
Dugar Brothers & Sons Pvt. Ltd.
Corporate Office: Kantipath, Kathmandu, Nepal
Phone Number: +977-01-4163532, 01-4163533, 9801350114
Branches:
Naxal Showroom: 01-4523191, 9801353657
Teku: 01-4260615, 9801351507
Bhaktapur: 01-5708015, 9801353649
Balaju: 9801353638
Bouddha: 9801351489
Kupondole: 01-5010697, 9801353655
Satungal: 9801367268
Ekantakuna: 9801353661
Banepa: 9801364243
Birgunj: 9801558696
Note: Vespa also has dealer network across various parts of country.
Or you can message us your queries regarding Vespa Scooter price in Nepal or its specifications.